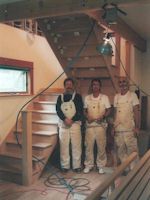 Rutledge Staircase and Handrail was established in Eugene, Oregon, in 1990. Our principal craftsmen learned their trade working in staircase companies around the San Francisco Bay area.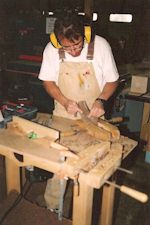 Quality is still our first priority. We provide our clients with beautiful, master-crafted pieces that will last them a lifetime. Our stairs and parts are custom milled per job using the finest hardwoods available. We specialize both in grand, curved staircases and in stairs fashioned in the Arts and Crafts tradition.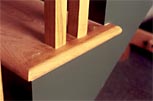 Whenever possible we prefer to use the 'housed and wedged' method of construction for our staircases. Our newel posts are built with either mitered corners or cope and stick joints for the stiles and rails. We are available to design and manufacture parts of any style to compliment and enhance the interior of your home.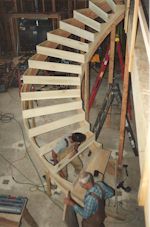 Most of all, we at Rutledge take a personal approach to every one of our projects. We take the time to get to know our clients, and to incorporate their specific needs and desires into our designs. To us, each staircase is about the client for whom it is created.
Due to the uniqueness of each of our stairs (and clients!), it is impossible to price projects over the internet. If you are interested in Rutledge's services, please contact us. We would love to learn about your specific needs and design the perfect stair for your home.