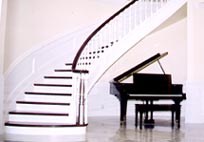 Please call us with any questions you may have. We look forward to discussing what Rutledge can offer you and your home.
Contact information for Kevin Delay, Rutledge founder and journeyman stairbuilder:
Phone
Fax
Address
E-mail
541-461-6800
541-461-6668
27711 Clear Lake Road
Eugene, OR 97402
Website maintained by
Dayspring Computer Enterprises.